MOLLY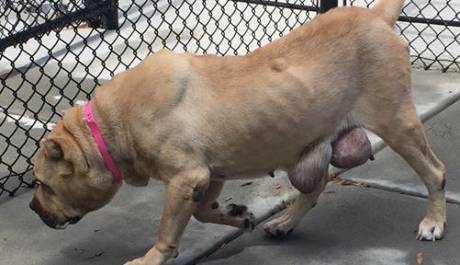 LAWRENCEVILLE, GA......Molly is a beautiful six-year-old Cane Corso Mastiff that was abandoned with massive mammary gland tumors. Dear Molly was taken to Gwinnett County Animal Control where a plea went out for a Rescue to please step up to save her. Because Molly was in such bad shape, she had to go to a Rescue that would get her Immediate Medical Care.
A Breeder has bred this sweet dog practically to death. It looks like she has not received any medical care but has kept the breeder in business by producing litter after litter without any regard for her health or safety. I had no business taking on another dog, but the facts are this sweet dog should have never been in this horrible situation. She is here because of GREED. I just could not risk her being put to sleep because of her condition. Lots of people were begging, but no one was stepping up for her. If she was not going to make it, then she at least deserved to be loved and cared for. She did not deserve to die alone in a Shelter like her Life never mattered.
Molly is one of the sweetest dogs you will ever meet. Her tail never stops wagging. Mastiffs are some of the most Gentle Souls for such big dogs. Molly is underweight and weighs 91 lbs. She needs to gain about 25 lbs. This sweet girl could care less that she is covered with masses. She is so glad to be rescued that all she wants to do is shower you with kisses.
Unfortunately, the biggest medical issue we have discovered with Molly is not her tumors; she is in early stage Heart Failure. We have brought in a Cardiologist to oversee her care because we cannot remove the masses until we get her stable. Molly's lack of Health Care has taken a toll on her Heart. Molly is also very anemic. She does not need a transfusion at this time but is being closely monitored.
I hate all this wonderful dog is having to deal with. She is the perfect dog that loves everyone she meets. Everyone is her friend and her tail wags whenever she sees another animal. The sad facts are that we have to do a lot of Medical Care to turn her Life around. She is so happy that it breaks my heart knowing what is going on in her body. We have seen a lot worse, but her heart issue has got to be taken care of first. Once we get the go-ahead to do surgery, we will then start removing the masses and biopsies will be sent off to see if she has Cancer.
Whatever sweet Molly has, we will shower her with so much unconditional love that she will be able to overcome just about anything. Her Life has been hard up until now. Her worst days I hope and pray are behind her. Whatever Medically she has to deal with, we are going to do everything possible to give her the best Life. We will be with her every step of the way and will never abandon her. Please, DONATE whatever you can so we can give Molly the best Medical Care possible. If you can't Donate, say a Prayer and then pass her Story on to your Animal Loving Friends so they can help with her Medical Bills.
Learn about our other amazing animals