MOLLY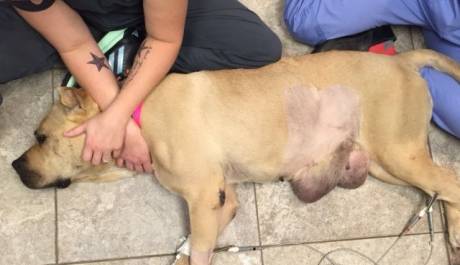 Sweet Ms. Molly had Cardiac Complications that required us to move her to an ER Facility that has a more seasoned Cardiologist, so we have the best possible chance of saving her. Molly was moved to Charleston where we work with Dr. Sophy Jesty that we love and respect for her amazing Cardiology skills. Our most difficult Heart-related problems, always go to Dr. Jesty.
Ms. Molly has a lot of things going on in addition to her Tumors. Her heart issues she has probably had since she was a puppy. Molly has Atrial Tachycardia with a rate of 360 BPM. She also has Degenerative Valve Disease causing mild mitral and tricuspid regurgitations. Atrial Tachycardia is difficult to control with antiarrhythmics and can take several attempts to find a combination of drugs that might work. The problem is that some dogs cannot be controlled with drugs, and they have to be sent to a Cath Lab to be ablated which is the same procedure they do for humans. Cincinnati is one hospital that does Arrhythmia Mapping and Ablation on a regular basis. In the meantime, Molly is in ICU closely monitored to see if we can control her Atrial Tachycardia. Surgery has been put on hold until we can resolve her heart issues. Dr. Jesty will be sending her findings to Cincinnati, so they are aware of what is going on with Molly and to keep them in the loop if we have to move her there for Ablation Surgery.
We never turn our backs on any animal that is in our care. Whatever we find, we deal with. There are very few organizations that go to the extremes that we do to make sure the animal gets the very best Medical Care. We rely solely on Donations and whatever we do not raise I do my best to cover. The problem is there is only so much I can do, and I give my all. Please, Donate toward Molly's care. We are getting very little in donations for this wonderful dog. Molly has a long Life ahead of her. She needs for us to continue with the best care possible so we can resolve the heart issues she has. We did a small biopsy of her mammary gland tumors, and they did not come back bad. We will not get the full results until the tumors are completely removed and sent off. That is not possible until we deal with her heart issues.
I know too many people and Rescues that would stop right here and put her down. I am not going to put down a dog that has medical options that can help her live a Long Life. I am going to Beg and Plead to get her the care that she needs, and that is exactly what I am doing now. Please, DONATE toward the sweetest dog you will ever meet named Molly. This big beautiful girl doesn't even act like she is sick. She is so used to dealing with her condition that it doesn't faze her. She is happy go lucky and the only time we know she gets a little uncomfortable is when she starts to cough. If you can't Donate toward Molly, we understand but give your Friends a chance to help us save her. We are all this sweet pup has, and I am not ready to give her a set of Angel Wings to fly to Heaven with because we couldn't raise the funds she needs.
Learn about our other amazing animals