MOLLY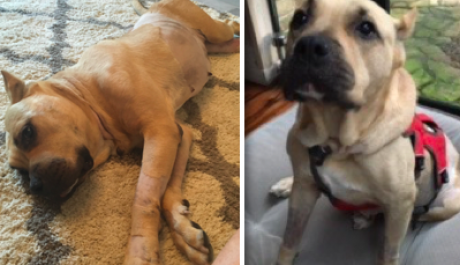 Sweet Molly has done well since her surgery. She still has to have more surgery but cannot until she has recovered from the first one. She still has lots of swelling from the Mammary Mass removals. Since she is such a large dog, this is going to take some time. Her staples will be removed in one week. At that time, she will have another Cardiology work-up to make sure her heart is staying in the normal range. When Molly gets overly excited from wanting to play with other dogs, her heartbeat goes up significantly but does come down after a normal amount of time. Since her heartbeat was converted to a normal rhythm from her meds, it has remained that way.
We got back Molly's biopsy report and got lots of good news and unfortunately, very bad news. The bulk of her main Mammary Masses came back benign which we were very excited about. Unfortunately, her left Caudal Mammary Mass came back Extraskeletal Osteosarcoma which is rare. It appears the Cancer had already spread to the lymph node that was closest to the mass. At this time we are not considering doing the Heart Ablation Surgery because her Oncologist does not feel her prognosis is good.
We have opted to fight the cancer as aggressively as possible with Palladia to give Molly the best chance of adding years to her Life. We know what will happen if we do nothing. Molly's bloodwork is excellent, and she does not have any cancer in her lungs. I believe if she can tolerate the Chemo and keep her weight on, this amazing dog has a good chance of making it for several more years. Our Goal is to give her the best chance possible that will not compromise her quality of Life. Molly doesn't know that she has any medical issues. All she cares about is that she is Happy and Free to be spoiled rotten. Life is Good for this beautiful dog.
Molly is a fabulous dog that loves everyone she meets. How anyone could be so greedy and heartless to keep breeding this beautiful girl when she was clearly sick is beyond me. Molly's Medical issues will be ongoing. Please, Donate whatever you can so all of her Medical needs are met. Thanks for caring.
Learn about our other amazing animals