MOLLY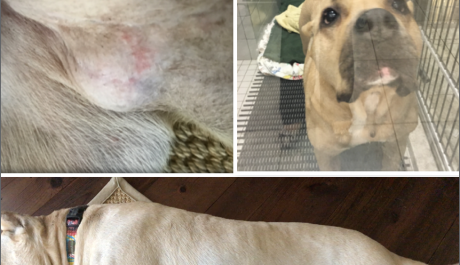 Our Big Beautiful Ms. Molly has to have surgery today for a new Tumor she has grown where her mammary mass was removed. We have been closely monitoring her progress while she has been receiving chemotherapy. We noticed the lump several months ago but decided it was best not to do anything because she was on the chemotherapy. We also wanted to see if the tumor quit growing or got smaller. The tumor growth did slow down, but it became very apparent her chance of the cancer spreading were going up, so we opted to do one more surgery.
The best news of all is that the cancer has not spread to her lungs or any place else. Molly was originally diagnosed with two cancers. We will know which cancer grew back once the biopsy has been completed. Our big beautiful girl is doing amazing otherwise. She has gained almost all of her weight back. Her legs were very painful when we first rescued her and seemed to be giving her lots of problems. The holistic protocol we have her own has taken care of the pain, and she can now run like the wind and is quick as lightening when she wants to play chase.
All of the heart issues Molly had, in the beginning, have completely resolved and she is no long on any of her heart medications. She does not have any shortness of breath and can do hikes up to three miles a day without any issues. For a dog her size, that is remarkable. We know the chemotherapy will not cure the cancer but are hopeful it will give us many wonderful years with this amazing dog.
Please, Donate whatever you can to cover her Surgery and on-going Chemotherapy. Thanks for caring and making her amazing Journey to Heal and find Love, possible.
Learn about our other amazing animals