SCARLETT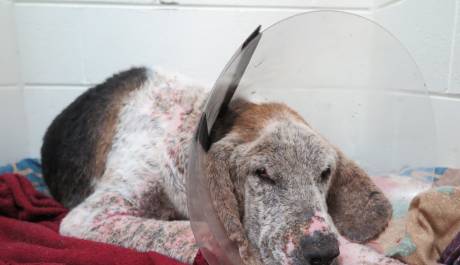 Sweet Scarlett is slowly improving but it still miserable with all of her skin issues and swollen elbows. She has lots of areas that are still hot and inflamed and make it hard for her to walk. One of the Decubital Ulcers we were able to close. The other areas we are doing our best to keep them from opening up and becoming large ulcers.
Scarlett is as sweet as can be. She is always in such a sad droopy state that we are hoping she will come out of it soon. I think her skin issues and swollen joints have taken a toll on her mentally as well as physically. All this wonderful dog wants to do is lay in your lap and be loved on. Scarlett's skin issues are going to take months to clear up, but we are hopefull her legs will begin to give her some relief.
I do not know how anyone could be mean to a sweet Hound. They are some of the nicest breeds around. Everyone loves a big beautiful hound dog with floppy ears. Scarlett is going to make a wonderful Family member for someone special. We are working on her Manners and Social Graces while she is recovering. I think someone just left her outside, pinned up in a small area that had concrete. She loves people but keeps her head down for fear of what is going to happen. Time and unconditional love should remedy that fear of being hurt. If you think Scarlett is right for your Family, please fill out her Adoption Application below.
We are still taking Donations to cover Scarlett's bill. Any amount is greatly appreciated. Thanks for caring and making her Journey to Heal and find Love, possible.
Learn about our other amazing animals