SCARLETT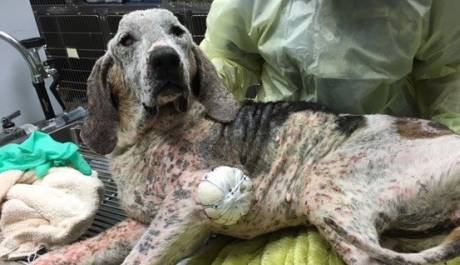 Our Dear Scarlet has taken a turn for the worst and had to be taken to CVRC in Charleston South Carolina. The infection in her Decubitus Ulcers has gotten worse, and the one elbow that hadn't opened up yet has declared itself and is now open. On top of the ulcers, we are dealing with a terrible case of Demodex and secondary infections. Things can turn bad quickly in a regular vets office. We decided she needed to be in a 24-hour care facility in ICU which is where she has spent the weekend.
Both elbows required new surgical procedures to clean out any infection and to get a better culture. So far, she has grown two bacteria's that are both MRSA. We are hoping the bacteria's came from the skin and not from the wound. The cultures taken from inside the ulcer will be back the first of the week.
Sweet Scarlet's skin issues are an ongoing problem that has had her miserable. The Critical Care Specialists that are working with her have changed the medication they had been using to something new. Yesterday was the first day she seemed to be a bit more comfortable. The surgeons put tie-over bandages over the ulcers and any areas that could be potential ulcers. This type of bandage enables the Specialist to change the bandages as often as needed to address the drainage in the ulcers.
I have been hoping and praying all weekend for better News to report but unfortunately, Scarlet is about the same. The only good news I have is that she has not gotten worse and that she appears to be more comfortable. Animals like Scarlet can go downhill quickly. Her immune system is already very compromised and is having a hard time fighting the infection. She will have to remain in ICU with 24-hour care for wound change and because her antibiotics require extensive liver and kidney values tested daily.
As miserable as Scarlet is she always gets up and gives everyone a hug and a kiss. Her sweet personality will make her the best family dog for someone special. Please keep Scarlett in your prayers and Donate whatever you can. ICU is one of most expensive places to be in a Hospital. The only way Scarlett is going to get better is with 24 hour Care in ICU. This is her only chance, and we need your help to make it happen. Thanks for caring about Scarlett the way we do. We love her and want to see her come out of this and have the unconditional love that she so deserves.
Learn about our other amazing animals