SCARLETT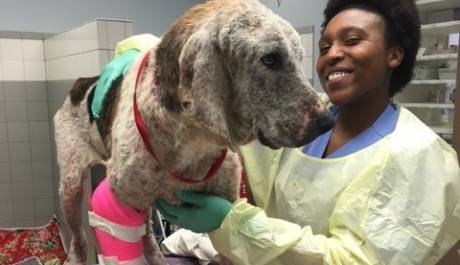 Our sweet Scarlett is still in ICU and improving a little bit more each day. She certainly has got a giddy-up in her step when she is going outside or if there is a treat involved. We did get one of her biopsies back, and it did show that she is still growing a MRSA infection. We are planning on doing her antibiotic bead implant on Tuesday if she continues to improve as much as she has. Once the surgery has been done, we will be able to remove her Wound Vac, and she will then be able to get a full medicated bath for her skin infections. Scarlett loves her bath time and will really love being allowed to get in a tub instead of a sponge bath. All of the Specialists feel good about her outcome. I was not going to put the Beads in since she had already done two weeks of Antibiotics. When her biopsy came back she still had MRSA; that was no longer an option. The oral antibiotics will be stopped when the Beads are implanted.
It looks like Scarlett will have to spend one more week in ICU because of her infection. She has another Dermatology appointment this coming week so they can go over her entire skin issues and come up with a better plan once the beads have been implanted, and the Wound Vac is removed.
To say that dear Scarlett loves all of the attention is an understatement. She thinks she has died and gone to Heaven. Her idea of Heaven has certainly stressed me out. Her bills are through the roof, and she still is not well enough to get out of ICU. We definitely need a break with this wonderful dog. We need to get her well enough to get out of ICU and the Hospital. We greatly appreciate any help with her continued bills. Thanks for caring. Without your support, her Journey to Survive and Thrive would not have happened.
Learn about our other amazing animals