SCARLETT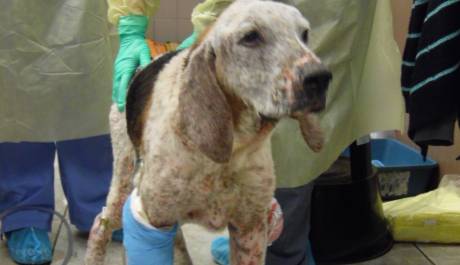 Sweet Scarlett has improved tremendously as far as her decubitus ulcers go. The Surgeons were planning on removing her bandages today and implanting the Antibiotic Beads if her skin cultures came back showing progress. Her wounds have shown tremendous progress as far as her tissue granulating. The issues we are dealing with now have to do with her skin infections. Scarlett has several MRSA resistant bugs on her skin. The infection in her ulcers we are getting control of, but her skin is not improving. In fact, her skin has gotten worse. We had Dr. Thomas, her Dermatologist come over and see her at CVRC because her infections were so bad. He took new scrapings and also took biopsies that he is sending off.
Scarlett does not have a clue she is as sick as she is. She has some edema in her legs that makes her a little uncomfortable, but her Spirits are great. Scarlett is still in ICU and will have to remain there. Everyone at the hospital loves and adores her. I put off putting the beads in until the final biopsies are back. I don't want to put her through any unnecessary surgery if she has developed a Superbug that cannot be treated. This breaks my heart for this wonderful dog. She has fought so hard to be here and feels pretty darn good. She sure loves her food and loves her treats of Vienna Sausage.
The other issue is that we are not getting enough funds to even come close to covering her ICU bills. We are desperate for donations for this sweet dog. I have never not treated an animal because of lack of funds, and I sure don't want to start with Scarlett. Please, do whatever you can and we will do whatever we can to get her through this. Her Dermatologist was far more optimistic after he saw her today. Scarlett is bouncy and happy once she gets up and get moving. Please, keep Scarlett in your prayers that she pulls through and that we get the funds that we need to give her all the Medical Care that is required for her to Survive and Thrive.
Learn about our other amazing animals