SCARLETT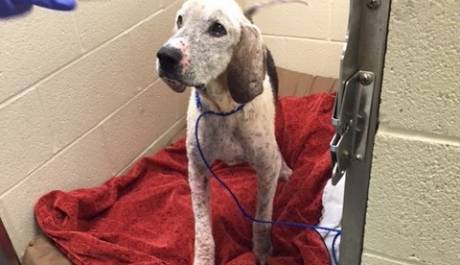 Our dear Scarlett has certainly taken up a lot of our time doing everything we can to save her. She has had more Specialists looking after her care than any animal we have ever had, and that is saying a lot. She is still in the hospital but will soon be moved to a facility closer to Specialists and Us to monitor her care.
We have made a lot of progress in the last two weeks. The biggest issue is that we have finally gotten her itching under control, and it is no longer an issue. Her skin is beginning to dry and is not moist like it has been for the last two and a half months. It is hard to believe she has been in the hospital that long. There have been so many times during those months when I was ready to say good-bye to Scarlett. I didn't feel her Quality of Life was there. Just about the time I had made up my mind, it was the right thing to do, and Scarlett would turn the corner and was back to being happy and joyful. She seems to be on my mind all the time to make sure she is comfortable and happy.
All of her Specialists and amazing Vet Techs looking after her have gone above and beyond for this wonderful girl. She has won everyone over with her sweet personality. The best news is that her bloodwork has stabilized and is pretty normal. We have done more skin tests and her Staph infections have been reduced dramatically. She does not have MRSA but does have MRSP which is the canine version of MRSA. This version is not contagious to people and is only contagious to dogs that have compromised immune systems. The Dermatology Explained to me that 50% of his patients have MRSP and they do great and live with healthy dogs that never get it. I was relieved to hear this and decided all the hard work has paid off because she can now be closer to us.
Our sweet girl is feeling so much better that she will howl when she wants someone's attention. I put a cute video up while she was in ICU demanding someone bring her a treat. I couldn't believe the dog next to her was sleeping while she was doing all of this. He must be on some heavy drugs to not complain about her barking.
I think our dear girl has rounded the corner. She has another month of Medical Care where we should see a lot of new growth in her hair and her scabs should start healing and sloughing off. Scarlett's bills are enormous. The quality of Medical Care she has required to get her this far is one for the Record Book. Please, Donate whatever you can so we can pay her bills. We have to keep going with her care, and that requires money we do not have because we have already spent so much to get her where she is. Scarlett has proven to us all that she is up to the task of living, and we have shown her that we are not going to give up.
Learn about our other amazing animals