SCARLETT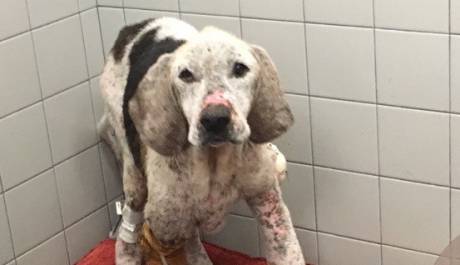 I am happy to report that we are finally making progress with Sweet Scarlet. Her Critical Care Specialist, Dr. Kristin Welch, decided the best way to get the infection out of the joint was to use the Wound Vac that we used on Freckles. The bandage on the Vacuum System is changed every 48 hours and doesn't contaminate other areas in the process. Her other ulcer is healing beautifully with the doughnut tie-over bandage. Once we see healthy tissue that is regenerating on the large wound, the Wound Vac will be removed. We will then do surgery and put in Antibiotic Beads with the appropriate antibiotic to kill the two MRSA infections that she has. By implanting the beads, we will not be damaging her kidneys or her liver. The antibiotic will be going directly to the area where the infection is. The procedure is very costly, and the beads cost in the thousands, but this is the only option that we have given Scarlet's skin condition.
Scarlett is still receiving daily medicated baths for her skin condition. When Scarlet first came to us, she was one big scab. Most of her scabs have been removed, and we are now seeing healthier skin below. She still has a ways to go, but progress is being made daily.
Now that Scarlett is feeling better, we are beginning to see her delightful personality. She is now vocalizing whenever she sees her favorite Vet Techs. Scarlett, will stand up, wag her tail and wait for them to come in. She appears to have stolen everyone's heart that is in ICU. Scarlett will have to remain in ICU for another week. I don't need to tell everyone how expensive ICU is. It is one of the most expensive places in any hospital and a vet hospital it's no different. Please donate whatever you can afford to do to help us get through this difficult time with Scarlett. We haven't had a skin case this bad with ulcers in quite a while.

This wonderful dog has the biggest heart and is giving her all to be here. She could've given up a long time ago but she has chosen to fight, and we have chosen to fight with her. If you look at the picture of her standing up you will see how determined she is to get through this. Please keep Scarlett in your prayers and if you can Donate, please do.
Learn about our other amazing animals