SCARLETT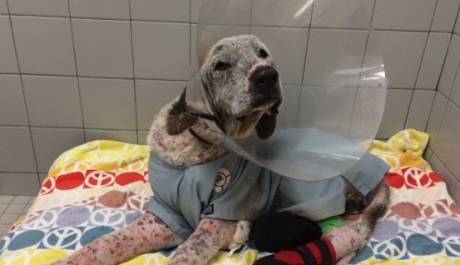 Sweet Scarlett is being pampered beyond anything you could possibly imagine. We learn from every animal we take in. We will be able to write a book after we finally get Scarlett well. We have had to think outside the box to rid her body of the infection. We are using New and Old Remedies that have been around for hundreds of years.
A lot of people want to come to the Hospital and see Scarlett and give her a hug. That is not possible as long as she still is contagious which she is. Scarlett had the infections long before we rescued her. We cannot risk anyone getting sick by not being properly suited up. Safety for everyone is one of our top priorities.
We still need Donations for her continued care, but we also need old or new thick blankets or comforters. Scarlett is on an orthopedic waterproof bed for large dogs. Her bedding is changed 4-6 times a day because of the drainage she still has from her skin. I am posting the address where Scarlett is so if anyone has any of the items, please drop in the mail or drop off at the Hospital below and say they are for Scarlett. This will help the Hospital Staff if we have a lot of extra blankets just for her bedding.
Carolina Vet Specialists / SCARLETT
c/o Dr. Michelle Nanfelt
4099 Campus Ridge Road
Matthews, NC 28104
We have so many great Specialists that are jumping through hoops to give this amazing dog the best possible outcome. This morning, Scarlett felt well enough to get enough and demand she was taken outside immediately. The minute the door was open, she took off down the hall. Our big Angel Scarlett is showing us all that a lot of unconditional Love and Care can go a long way in turning an Animal's Life around.
Learn about our other amazing animals