LUKE (Great Dane)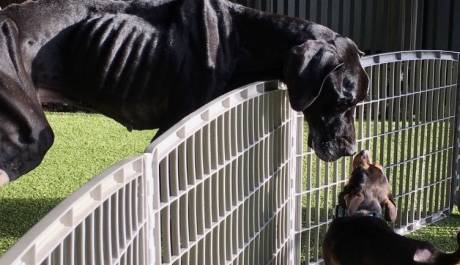 A picture is worth a thousand words, so I will keep this update short. For a dog that has so many medical issues, Luke is feeling fantastic. He was so happy to get back to the Rehab Facility that he went right up to everyone and greeted them after a good nights sleep. I love the picture of Luke reaching over the pin to kiss Marty that just had surgery. Sweet does not even begin to describe this fantastic dog.
Luke Medical List is a mile long. Dr. Welch switched up his Meds from last week, and it is working. He is gaining weight, and his leg wound is not as purulent as it has been. PROGRESS is a Beautiful thing. Luke is still considered Critical according to his Medical Team, but I think he has made tremendous strides in the last week.
Dr. Marikay Campbell at Port Royal Veterinary Hospital has been looking after Luke in our Rehab Center. Luke loves Dr. Marikay, and we love Dr. Marikay, so it is perfect all the way around. Changing Luke's bandages can be dangerous, or it can be a non-event. We do not like sedating him for this procedure because it happens so often. We do everything in our power to keep him distracted by giving him treats, lots of kisses and body rubs. With six arms wrapped around him, he is not sure where to focus.
I have lots and lots of e-mails out to prosthetic companies to see if we get rid of his infection if a prosthetic can be made for Luke. Half I have already heard from, and they have said NO. I am still hopeful and will not be removing the leg for a while until all options have been exhausted. As I said in an earlier update if the infection goes up the bone, the leg will have to go to save his Life. We are praying we are past that point but as long as he has an infection, that is a real possibility.
Thanks for caring about this dear boy. Luke loves all of the attention he is getting at the Rehab Center. He may look like walking bones to everyone else, but to us, he is Majestically Beautiful. Have a very blessed day and don't forget that if you need a Hug, then give a Hug. That has always been my philosophy. Warm hugs to everyone from the chilly Lowcountry.
Learn about our other amazing animals