LUKE (Great Dane)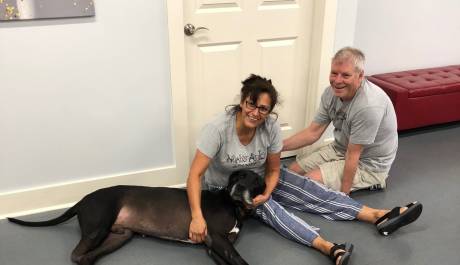 I am happy to report that Luke has been adopted and is doing amazing. I waited three weeks before posting the news just to make sure all of the dogs got along and the house was best suited for a large dog with three legs. We picked a Family that was within a couple of hours from us that had adopted from us before and had a proven track record of going above and beyond for their pups. They passed with flying colors.
The only issues we are having is we still have not gotten a prosthetic that is easy to use that Luke likes. Derrick Campana is working on doing a revision so we can come up with a good solution. In the meantime, Luke goes for short walks and then stops when he gets tired. He has a beautiful fenced yard where he can walk around outside whenever he wants to. He is getting plenty of controlled exercise but is not what we want for this Gentle Giant. We want the prosthetic so he can balance his hefty body over four limbs instead of three. Eventually, his remaining rear leg will start having problems and then he will be in a cart which is not what we want.
Luke's new Family is well aware of his limitations and has made their home completely safe for a dog his size with three legs. Their dogs are the children in this Household. Whatever the dogs need they get. They also have an inground pool specifically for the dogs which we are hopeful Luke will be able to use for part of his Rehab.
Our Gentle Giant is finally getting the Life he always deserved. He is Loved unconditionally and will never want for anything. We will still be doing updates as we get them. Thanks for everyone's Love and Support for this exceptional Pup.
Learn about our other amazing animals