LUKE (Great Dane)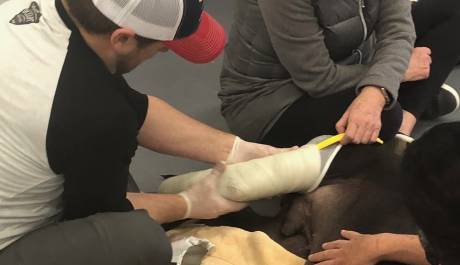 Monday was an exciting day for Luke. Derrick Campana arrived from Animal Ortho Care, and Luke's casting began. Luke was good through most of the procedure until we had to cast around his nether region and he was not too happy about that. Casting is a long process of wrapping and waiting. If any area gets moved or is not accurate, the process has to start all over. Accuracy is the key to a well-fitted prosthetic.
Once Derrick closely evaluated Luke and took measurements, he decided he would need two braces. One for his prosthetic and another one to give him more support going across his rear end. We did not want to have Derrick come back several times, so we opted to go ahead and have the second brace made to go with the prosthetic. When the brace and prosthetics are made, he will come back to do the fitting and adjustments.
We are expecting there to be several more trips to get the leg where Luke is comfortable using the prosthetic. It is going to take approximately four weeks for Derrick to make the prosthetic and then get back to us. Patience is not one of our virtues, so this is going to be a long wait for us. The good news is the process has begun, and we can now move forward with the next phase of his rehabilitation.
Luke is getting stronger and stronger each day. We would like to see him gain ten more pounds of muscle mass but not much more than that. Luke will never be allowed to gain extra weight due to his size could weaken his only remaining rear leg. We are very conscious of his back leg getting stronger so it can maintain his rear body mass. We have also discussed having a brace made with Derrick if we feel Luke is not strong enough to carry his weight.
We have waited a long time for this day to arrive and now we have to wait a little longer. Luke is the only one that does not mind the wait since he is spoiled rotten 24-hours a day. He really is a very spoiled big boy that we love and adore. He and all the other pups we have are showered with unconditional LOVE and CARE.
We knew we were going to have a prosthetic made for Luke but didn't realize it had so many extra parts that also needed to be custom fitted and shaped. Whatever Luke needs, we are going to do to give him back his Life. Please, Donate whatever you can to continue the process we started six weeks ago to save Luke.
Learn about our other amazing animals