LUKE (Great Dane)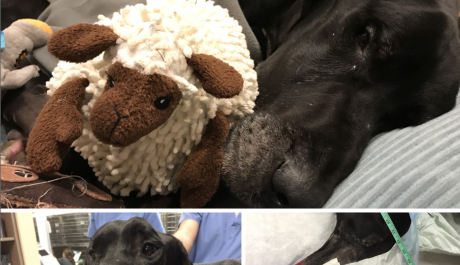 Well, you can't say we are not an optimistic bunch. Sadly, we had to bring Luke back to the Rehab Facility last night after seeing his Surgeons. He still has a terribly infected limb with Pseudomonas. The infection has improved but not enough for us to risk doing surgery. Surgery has been put off until Monday, December 17 if all goes well in the meantime.
Luke was put to bed back at the Rehab Center and was quite glad to be there. Most dogs do better out of the hospital if they are fully awake and aware of their surroundings. Luke, in particular, shuts down when he is there and is more on red alert. He gets lots of loving from the staff, but it is not the same. He has gotten used to roaming around the center and taking naps whenever he wants to.
He has also gotten used to jumping up and running to the kitchen every time he hears a dog bowl being filled with food. According to Luke, if food is being served, then it must be for HIM. We have been so busy watching the amount of food and how often Luke could eat that we did not realize how much weight he had gained. Our beautiful boy has gained fifteen pounds since we rescued him. He needs to put on about 40-50 more pounds for him to be back to a healthy weight. That amount will change based on if he gets to keep his leg with a prosthetic.
Everyone is still snoring at the Rehab Facility but will soon be awake for their day to begin. Thanks for all the help with Luke and all our other pups. Spread Joy whenever possible. Have a very blessed day filled with lots of Hugs.
Learn about our other amazing animals