LUKE (Great Dane)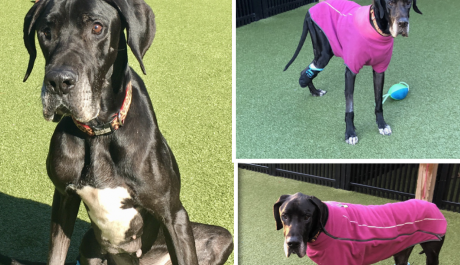 I hope everyone had a Joyful Holiday Season and is ready to put 2018 behind us and welcome in the New Year. Luke is doing exceptionally well. We are still working on his bandage changes once a day which is taking a toll on everyone. Dr. Welch thought he could go for 48 hours between changes, but that was not possible. His pseudomonas infection would raise its ugly head and let us know who was in charge and it was not us. There has to be a happy balance, so we do not remove too much of the good granulated tissue but get ahead of the infection.
We have Luke scheduled for surgery on Thursday, January 3rd. The exposed bone will be removed, the tissue will be debrided, and the area will be closed with as much muscle as possible protecting the area. Once the area heals, we will then have the prosthetic specialists come down to do a cast that can be custom made for Luke. We are very hopeful this will work but have to be open to the possibility the leg may have to come off. Amputation is not our first option but is still out there as long as he has the infection in his bone.
Luke is past the point of us worrying about him developing Re-feeding Syndrome. He has gained almost 25 lbs since he was rescued and still has another 25 lbs to go. He eats enough food to be the size of an elephant. When he catches up, we will then cut back the amount he is taking in daily. Luke's intestinal problems have almost completely resolved. Only occasionally does he have any issues.
We have narrowed down all of the applications we have had for Luke. Our first picks are people that put in applications that have adopted from us before. Our next criteria are we need someone that is within a couple of hours from his Surgical / Critical Care Facility. Given that Luke will be a tripod with or without a prosthetic, the home has to be on one level since he cannot do stairs safely. We cannot risk him breaking another leg. Last but not least, they have to have the ability to take care of a dog this size financially and physically. References have to be excellent as it does for each of our pups and will not be different for Luke.
Luke has made tremendous progress and only has a few significant hurdles he has to get over. He still has the sweetest personality and loves everyone he meets. We have only seen one issue, and it was with an abused unneutered male we rescued. We are chalking it up to both dogs are intact and puffing up their chests.
Our next update will probably not be until he has his surgery. If something significant happens, we will do an update immediately. Have a very blessed and safe New Year. Warm hugs from everyone at Noah's Arks Rescue.
Learn about our other amazing animals