LUKE (Great Dane)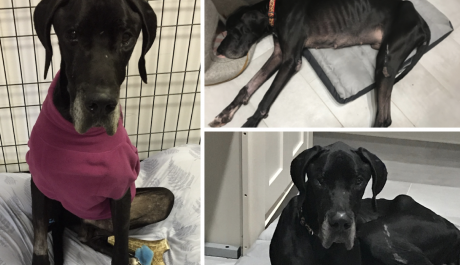 Luke is still doing wonderfully. His Pseudomonas Infection has improved but is still very active. We have put off surgery until after Christmas due to the fact we have to cut bone. We need the infection to be gone before surgery can take place. We have a lot of protocols in place that are slowly working on his mangled leg. It takes different combinations to get the results we need prior to Surgery.
Our sweet boy's spirits are fantastic. You would never know he had been through all that he had given how happy go lucky he is. He could care less about anything but food, water, hugs and being next to you. He loves coming in my office or hanging out with everyone in the shop. His big lanky body is sprawled out right under everyone's feet, and we just step over him. He goes where he wants to and hops up the minute someone comes in.
Luke has adapted to all of the bandage changes which is good because he has a lot of them. He has even adjusted to going to the hospital because everyone loves seeing him there. Every day this special boy comes up to me for a hug, I am dumb-founded people did this to him. He is a beautiful dog that loves everyone. He is excited and happy all the time. I can now vouch for his personality which is a typical happy go lucky Great Dane.
Thanks for all the kind words and help with sweet Luke. We are in the middle of the Holiday Season and have much to be grateful for. Much Love and Warm Hugs from everyone at Noah's Arks Rescue.
Learn about our other amazing animals