LUKE (Great Dane)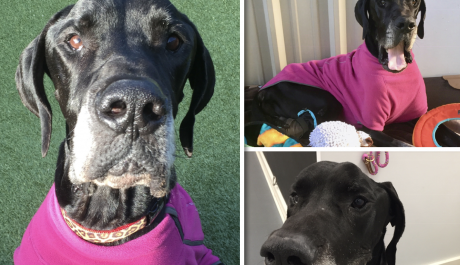 LUKE'S Spirits are incredible. This beautiful dog does not let anything get him down. When we are looking all concerned about his infection, he looks at us as if to what, "This is nothing, Be Happy for small improvements." We do see small improvements but not enough for us to do his surgery.
I hear from a lot of people to just amputate his leg. Well, that is not as simple as it sounds for such a large dog. Luke is going to have at least 50 more pounds on him when he is healthy. He can walk now as a tripod because he is so starved. That will change when he is at an average size for him. The strain on his only rear leg will eventually take its toll and cause him to have leg and hip problems.
We are going to exhaust every possibility to save his leg for a prosthetic down the road which will support his only remaining rear leg. If we have to amputate the damaged leg, we will have a supportive brace made that will take some of the pressure off the one leg. Right now, our top priority is getting rid of the infection he still has in his injured leg. Once that happens, we will schedule surgery to cut the bone that is protruding and close the area around the bone with surrounding muscle and skin.
A Prosthetic cannot be fitted until the repair has been done to the damaged leg. Only, then can we get casts done for a proper fit to construct the prosthetic. We have narrowed our search to someone we feel could make the device for Luke and get the best possible results.
Luke is having more fun than we ever thought was possible for a dog in his condition. He loves to run and play with everyone and go after squeaky toys. He has adapted to being a tripod which is what we had wanted. The other thing Luke loves is being right under your feet. The closer he is to you the better he likes it. He is going to make sure no one ever leaves him outside again. We have posted a wonderful video of him running around outside and actually opening a gate to go back in.
Thanks for all the help with this special pup. Our Gentle Giant is on his way to a full recovery only without a limb. We wish each of you a very Merry Christmas filled with much Joy and Laughter. Warm hugs from Noah's Arks Rescue.
Learn about our other amazing animals