ROMAN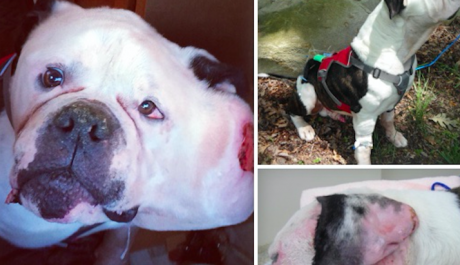 Guess who is finally coming back to us after having six weeks of radiation, ROMAN. He has a done extremely well with the treatment. The entire team at Carolina Veterinary Specialists in Matthews, NC did everything possible to make Roman comfortable. After awhile, any animal wants to get out and not be fooled with any longer. Roman was no exception. He let you know right off the bat if he was tired of being stuck or prodded. The radiation was five days a week with the weekend off. We allowed Roman to stay at the hospital the entire time so he would not be depressed when he was returned. The Staff loved the Gentle Giant. They set up a system with a long IV line so if he needed any injections and was not in a very good mood, they could do it without bothering him. The system worked great for them and Roman. The most important thing you have to be on top of at all times is keeping the animal comfortable and pain-free. The first three weeks were great, and then the burning started. Dr. Treuil and his incredible Staff were on top of this every second of the way. If they felt he needed a day off here or there, they did it and allowed him to run and play to his heart's content. If anyone has to treat their pet with Radiation, you can't find a person any better than Dr. Treuil and his staff. We are very fortunate he is close enough for us to get our dogs there for treatments.
Roman will spend a couple of days with CVRC in Charleston for wound care and then he will go to our Vets in Savannah, GA where he will be spoiled rotten while his face heals. After that, he can be placed in an amazing home where he can be loved and nurtured for the rest of his Life. Roman's only chance at survival was doing the Radiation and the Surgery. We have now given him his Life back. We think he is going to be around for a very long time.
We are still looking for that Special Family to welcome Roman into their loving Family. Roman loves to run and looks like a horse galloping when he does. He is beautiful to watch the way he moves. Our sweet boy needs a large yard so he can get out his excess energy. He loves to play and wants to be with you all the time. He has a very loving Spirit. Please, drop us a note if you think our Gentle Giant would work with your Family.
We are still taking Donations so we can pay off Roman's final bills. Any amount is greatly appreciated. Thanks for caring and being part his Journey. We greatly appreciate your support.
Learn about our other amazing animals