ROMAN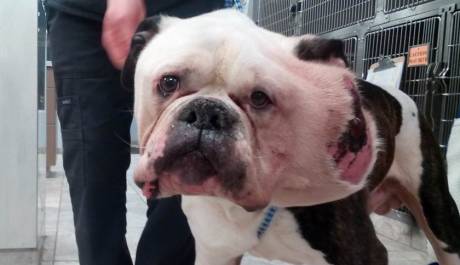 FREDERICK, MD.......Roman is a 6-8-year-old American Bulldog Mix that wandered into someone's yard with a massive Growth on the side of his face. Animal Control was contacted to pick up this sweet boy, and he was taken to Frederick County Animal Control. We were contacted to see if we would consider rescuing him given his medical condition. We agreed and put our transporter on the road to Virginia to meet a Volunteer that had picked Roman up for us.

Roman arrived at CVRC in Charleston, SC around 3:30 in the morning where he was immediately taken into Emergency Care. All of our Specialists were prepared and waiting for his arrival. Our dear boy is a massive dog. What you can't tell from the pictures is that he is about 15-20 lbs. underweight. He is very thin and appeared to be starving when he was discovered abandoned in someone's yard in Maryland. Bloodwork was done, and scans were taken to determine as best they could what they were dealing with. The scans showed lots of fluid in the large mass and an area all throughout his ear canal that appeared to be solid. Roman was sedated, and biopsies were taken in several different areas of the mass and sent off. The results should be back tonight or early tomorrow. The mass is very different than Bubble's mass. Even though it is large, it is solid at the base and the area around can be gently moved. Once the biopsy was taken, the mass was drained to see just how much it would go down. We have a very graphic picture of the process that should not be watched by anyone with a queasy stomach. The mass went 3/4 of the way down and then proceeded to fill back up. The Oncologist thinks there is a tumor at the base of the mass based on the fact it does not appear to be an infection. The biopsy will tell us what we need to know to proceed. We have already spoken to the University of Florida Surgical Oncology Team to make them aware of Roman. If this is Cancer, he will be taken to UofF to determine the best course of action to get rid of the tumor and the mass.
Roman is the sweetest boy. He has a sadness about him that reaches deep in your Soul. He is not waiting for anyone to come and pick him up. He is not looking out the kennel door to see if his person is walking in. He is very trusting and has an aloofness about him that lets us know that he hasn't been special to anyone for a very long time. Life has been hard for Roman. He appears to have been on his own dealing with the pain and suffering. The only time we get a rumble out of him is after lots of sticks from the Vet. Techs. This sweet boy belonged to someone that allowed this mass to get this big. It is criminal for anyone to allow an animal to suffer the way Roman has. The mass is very painful. We have to keep him sedated just enough to take the edge off his pain but not enough to knock him out. Roman is going to be a massive beautiful dog when he gets healthy and is back to a normal weight for his size.
We have our hands full with major abuse cases that are requiring long-term medical care. Please, help us with Roman's medical bills, so we do not get any deeper in debt with the mounting bills that come in daily. Thanks for caring and being part of his Journey.
Learn about our other amazing animals