ROMAN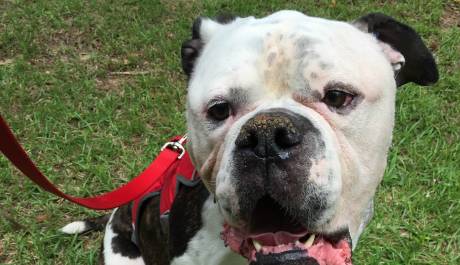 I am happy to report that sweet Roman is out of the ER Hospital and has been moved to Dutch Fork Animal Hospital in Columbia. He will remain there until all of the seroma and swelling has gone away. Once the fluid has drained, and we are confident it will remain that way, he will then be transferred to Carolina Veterinary Specialists in Matthews, NC. He will then be prepped and prepared for his six weeks of radiation. Dr. Philip Treuil will be overseeing his course of radiation and his care while in North Carolina.
Radiation requires exact markers to make sure they are radiating the exact area of the tumor each time. If there is any swelling, the markers move, and there is a greater chance of radiating outside the margins. Radiation has to be precise and accurate each time, or you will not get the results you need. Dr. Treuil is one of the best and is also onsite to make sure his treatment goes smoothly. Roman will remain at the hospital during the week and will be coming back to DFAH on week-ends unless we find an appropriate Foster in the Charlotte area that wants to help us with his care. Please, drop us a note if you think this is something you would like to help us with. It would provide Roman a home environment while he is undergoing his extensive radiation.
We are still looking for that special family to adopt Roman. We are all in love with him. He is a baby in a very big body. He lets you know right away if you are doing something to him that he does not like. Treats and food are a great motivator for him and will usually give the Vet Staff time to do shots, etc. while he is drooling over the possibility of the treat when they are done. Whenever we are at the hospital, we always go in to take him for a long walk so he can get out and run around. Roman loves to run and play and would make a great running partner. For such a big dog, he moves with such grace that it looks like he is barely moving. We love watching him prance around.
Thanks for helping us with sweet Roman. He is an amazing dog that deserves his chance at a long Life surrounded by people that love and adore him.
Learn about our other amazing animals