ROMAN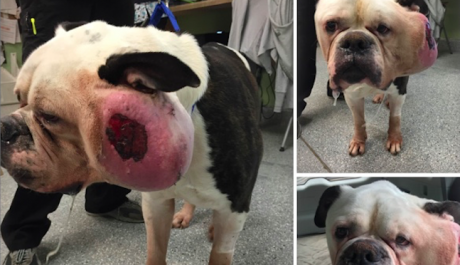 I apologize for the long wait for an update on Roman. We have been waiting for his biopsy report to come back. The final report is not here, but the preliminary is. Our dear boy does has an undifferentiated carcinoma with fibrosis. The origin is unknown at this time. The surgeon will be able to determine where it is coming from once the surgery is done. The tumor could be coming from the ear canal based on the solid area in the ear canal.
Roman has an appointment with Dr. Sarah Boston at the University of Florida on April 13. Dr. Boston assisted Dr. Nick Bacon when they did sweet Bubbles surgery. She is an excellent surgeon and is our top choice at this time. Roman has lots of medical issues going on that need to be addressed before he can have surgery. He has a terrible ear infection in the ear on the tumor side. He also has a nasal infection that is also being addressed. He is in a lot of pain from the tumor but is kept on pain meds to keep him comfortable. The tumor has lots of drainage. No matter what we do, Roman manages to rub and knock it until it starts to drain.
We feel terrible for sweet Roman. It breaks our hearts that people allowed this to happen. There is no excuse for someone to not seek medical help for an animal that is clearly suffering. The way he looks right now, it is very clear that Roman spent most of his Life outside. Dirty does not even begin to describe just how dirty he is.
His sweet personality is beginning to come out. He will now sit and shake for you and look for you to come and sit with him. Everyone is taking turns being his person. Roman is up and down all throughout the day because his tumor gets hot and becomes very uncomfortable. I wish he could have his surgery sooner, but it is not possible. We had to wait almost three weeks before Bubbles was well enough for his surgery. We need for him to be healthier before this can happen.
Thanks for caring and being there for this wonderful dog. He is a great big Lovebug that doesn't realize how special he is to all of us.
Learn about our other amazing animals