ROMAN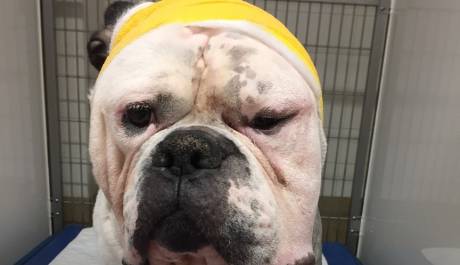 Sweet Roman has become a traveling dog. He loves being in the Rescue Van or Car. He is now at CVRC in Charleston, SC to have an aspirate done of his spleen. The reason for the trip to Charleston is because when the surgeons were preparing him for his major surgery, they discovered a small lump right below his tumor. During his procedure, they removed the lump, just to be safe and sent it off for a biopsy with his large mass. We never thought anything of it since he did not have any cancer in any of his lymph nodes. Unfortunately, the tiny mass came back Grade III Mast Cell Tumor. Roman, unfortunately, has two very aggressive cancers that have been removed. The aspirate of his spleen was to tell us if the MCT had spread to his spleen. I am very happy to report that it hasn't. The small tumor that was removed has dirty margins which means they could not get all of it without doing too much damage. All of this may sound daunting to everyone, but it shouldn't. We have spoken to all of the Specialists and have come up with a plan to give Roman the best possible chance at a long, fun-filled Life. He will begin radiation in Charlotte with Dr. Philip Truill. He will be doing several long series that have been designed just for him. During this time, he will also be put on a mild chemotherapy to protect his organs from any microscopic cancer that did not show up on the scans.
Roman is healthy as an ox in every other way. We all feel very good about his prognosis. As far as Roman is concerned, he doesn't think he has anything wrong. He feels great and wants to go into a home ASAP. During his time doing radiation, we will be looking for a Foster and potential Home for him. The Foster will need to be in the Charlotte area so he can go in for his radiation treatment.
Sweet Roman is like a big bull in a china shop that has no clue he is a big dog. He thinks he is a small lap dog and is very confused when he is not allowed to sit in your lap all day long. If you love big dogs, don't look any further. Roman is a big dog person's Dream Dog. Please, drop us a note if you would like to adopt or foster Roman for us. He is amazing and loves everyone. Roman is too big to be around small children because of his size.
We are now taking donations to cover his chemotherapy and radiation that are quite expensive. Please, donate whatever you can to make this possible for our dear boy. He didn't ask for this cancer and deserves every possible chance to live out his natural Life. Thanks or being part of his amazing Journey to survive and find LOVE. We greatly appreciate it.
Learn about our other amazing animals