ROMAN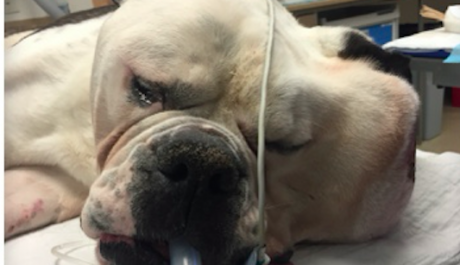 We wanted to let everyone know that Roman has just gone into surgery. Yesterday was a very big day for him preparing for the procedure and us going over everything bad that could happen during the procedure. It truly takes nerves of steel to proceed after all of the bad is described to you. Surgery is Roman's only chance, and we are proceeding with it as planned. One of the major issues we had yesterday is that the surgeons could not find a blood donor match that Roman did not have a reaction to. We think his reactions is because he also has Lyme disease that is making his blood more sensitive. We have to have a plan for blood because of the surgery he is having. I am happy to say that early this morning, his surgical team found a blood donor that Roman did not have an allergic reaction to.
Surgery with every animal has it's risks. Roman's surgery is more extensive and, therefore, has more risks. During the procedure, Roman will have a Total Ear Ablation because the tumor has destroyed and taken over the left ear canal. I have enclosed a link below so you can see exactly what that entails. Roman will still be able to hear just fine out of his right ear. It is possible he will also have some paralysis similar to Bubbles around his left eye afterward. That just means that he will not be able to blink as a normal dog and will need eye drops. He already has lost the ability to blink in that eye and is doing fine with it. We will not be able to get clean margins during surgery, and some of the tumor cells will be left behind. Two weeks after the surgery and once the final biopsy report is back, he will begin radiation treatment. Roman is an excellent candidate for radiation since the cancer has not spread to any other part of his body. We don't know if he will be cancer free after all of this, but we do know his quality of Life will be improved dramatically.
http://www.vetsurgerycentral.com/ear_ablation.htm
Today is going to be a long day for everyone. He will be in surgery for most of the day with an incredible Team of Surgeons. We will not have any news until later this afternoon and possibly not until this evening. No news is always good news when it comes to these extensive operations. If anything goes wrong, I am contacted immediately while they are in surgery. At that time, I decide whether to proceed with surgery or to have them let Roman pass without bringing him out of anesthesia. The decisions are never easy but have to be made to ensure the animal has a good quality of Life when they come out of surgery. This procedure happens on every animal we operate on, always. When Bubbles had her final surgery, Dr. Bacon called me when he discovered how much of her tumor had invaded her jaw. We discussed options, and his opinion was to let her pass and not wake her up from anesthesia. To be exact, I told Dr. Bacon to put his big boy panties on and get back in surgery and save here. Sweet Bubbles lived much longer enjoying Life free of pain. The point is there are no guarantees in Life when it comes to surgery. Our ultimate goal is good Quality of Life for the animal.
Keep Roman in your prayers for a successful operation without complications. We are still way short of what we need for his surgical costs. If you haven't donated or shared with your animal loving friends, please do. We need every penny we can get to help Roman and more dogs just like him. Thanks for caring and allowing us the opportunity to save Roman. None of this would be possible without you. You are our Guardian Angels, and we greatly appreciate your love and support.
Learn about our other amazing animals