BUBBLES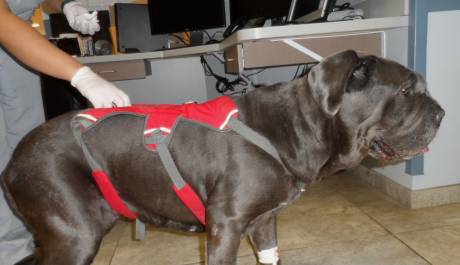 Our sweet girl is back from Missouri. She has two more weeks of quarantine and then she can go to her new Family. Quarantine means that she can be around people and animals for limited times each day. No more than 5 minutes each time and up to several hours. As long as she gets to go outside, run and play, she is a happy girl. That is what she loves most right now. Her last 4 days in Missouri she was the lucky house guest of her Oncologist, Dr. Kim Selting. I can't even begin to tell you how much it meant to us that she took Bubbles home to spend time with her kids and animals. Bubbles loved every minute of it as you can see from the video.
We are now in a holding pattern to let the radiation do it's magic. Bubbles has bloodwork drawn each week to make sure the radiation has not depressed her immune system. She is always closely monitored for any changes that might have occurred in her physically and mentally. The only thing we have noticed (which was explained to us) is that she has a small lump above her left eye. That is the area where she has another small tumor the size of a grain of sand. The area expands and swells after this type of radiation if it has absorbed the Samarium. We are taking this as a good sign since it is an area we never noticed before. We have to wait another month before we can repeat any scans to see if the tumors are shrinking, remaining the same or still growing. Her bloodwork came back perfect this morning. She is in the hospital in Charleston for three days getting loved on by all the staff and us to make sure the swelling goes down. The scans we took this morning showed the swelling is soft tissue related and not bony. While Bubbles was being checked over the Vets found a Hematoma that had formed at the roof of her mouth. They will sedate her today, remove it and take a biopsy to make sure we are not dealing with any new abnormal tissue.
As hard as it was for us to not be able to interact with our dear girl, Bubbles did just fine. She was given lots of items and music to keep her stimulated during the past two weeks. She had interaction with her Doctors and staff, just not for long periods of time.
We are anxiously awaiting the outcome of the treatment while we are loving having Bubbles back home and in our arms again. This sweet girl has stolen the hearts of everyone. How anyone could have even considered not giving her a chance at having a normal Life is so sad to us. Since the day after we removed her tumor, she has been a different dog. She is running, playing and loving Life. Her surgery was a huge success because it gave her back her freedom and her Life. We do not know if it bought her years or months but we do know it bought her Freedom. With the tumor, she could barely hold her head up because of the 10 pound weight she was carrying. Just thinking about how she was when she arrived brings tears to my eyes. We all love her so much and so want this to work for her. What we need to realize is that it has worked in the eyes of Bubbles. We see the joy and excitement she experiences every single day.
Learn about our other amazing animals