BUBBLES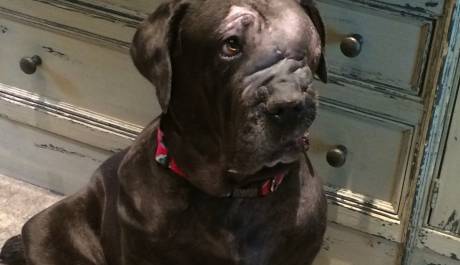 I wanted to put a great big SMILE on everyone's face this morning by posting our sweet Bubbles. It is amazing what this wonderful dog has been through and how she keeps on going. When all the World counts her out, she comes back and feels better than ever. Her cancer is still there and is growing and multiplying but her Spirit soars higher each day. She feels amazing and is the happiest dog you could ever imagine. I do not have a clue how much longer she has left. What I do know is that she is loved and nurtured so much that she has decided to stick around a little longer than the Doctor's predicted.
She has been doing so amazing that I decided I needed to know if the cancer had started to die or was still growing. I took her in for a cat scan to find out if there was any change and if there was positive change then what our next step would be. The news was not good but it just didn't seem to matter. What I was looking at was the happiest dog in the World. The scan was just a picture of what she should be feeling like. Her reality is quite different. She looks and feels amazing. This is the last week for her antibiotic infusions. Her bone and eye infection is now completely gone. She has had 3 infusions every 8 hours for the last month. This is her last week. Her bloodwork shows she is just a little anemic and her kidney values are all normal. Each day she gets about 40 holistic pills to keep her immune system up and to help fight the infection naturally. She also gets holistic chemotherapy and regular chemo. All of her pills are given with a can of sardines in oil and she takes them like a champ. Her weight is now perfect and her coat is beautiful and shiny. She has lost most of the hair on the left side of her face and part of the right from all of the radiation treatment she has received. We have a holistic Herbal Balm that is made specifically for us by a wonderful company called De La Terre that has been applied to her face since the beginning. It has done wonders for the burns she had from her radiation treatment. Her facial skin is now soft and pliable and completely healed.
I could go on and on about the most wonderful dog but the greatest Miracle of all is Bubbles. Her will to live and to never give up or give in. I know her time will come and there is nothing I can do to stop that. I also know that Bubbles doesn't see Life in terms of time. What she experiences are great moments. Nothing else seems to matter to her but the moment she has right now. She doesn't look back or look forward. The saying, "Be Here Now" she lives every single day. Everything she has had to endure has enabled her to "Be Here Now". The biggest blessing of all is seeing her out of pain and happy. She gives new meaning to what is possible when you are surrounded by unconditional love. She is loved and cherished and that is all she cares about.

Bubbles is finally HOME and has a Family all her own. She will live out the rest of her Life with ME and my Family. She also has a Boyfriend in Gus one of my blind dogs. They are inseparable and love on each other all day long. Gus doesn't have any eyes but he knows how beautiful she is. She will lay down with Gus sometimes when she is getting her infusions and soaks up all the love he has to give. Miracles happen every day in this World. You just have to believe in Miracles to see them.
Thanks for being her Guardian Angel when all the World was yelling to put her down. Our dear girl wasn't willing to accept that fate and she made sure we knew it. Every tail wag was a sign to keep on going. We never gave up on her and she never gave up on us.
Be sure and watch her latest video. Gus is relaxing outside and all she wants to do is play.
We are still taking donations for her continued care and would greatly appreciate any donations to go toward her medical bills.
Learn about our other amazing animals