Freckles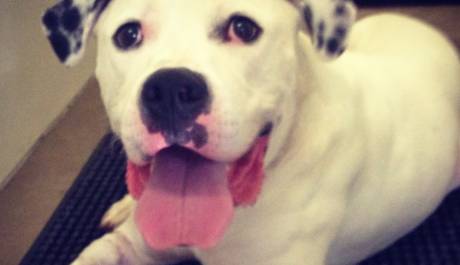 FRECKLES has made huge steps in his socializing and he's constantly making incredible progress as we work with him daily. Some would never have thought a few months ago he'd be licking the faces of those who work with him daily, but we believe in him and we knew he'd mold back into the sweet and loving pup he truly is.
He LOVES to run and play. He gallops like a big white horse. He has no idea how big he is or how funny he is to watch as his bows down at your feet to play. He's inquisitive and silly. His belly and ear rubs are his most favorite past times. He is socialized daily by walks or trips to the beach or simply by playing in the warm sunshine as he continues to learn the world around him.
FRECKLES is still very unsure of strangers and men. However, he is learning to trust and build bonds that allow him to play and be just the silly pup his is. He's an inspiration to us all. From what he's endured to where he is now. We all, as the human race, could learn something from FRECKLES. It takes time to trust again, but he is forgiving, and he is the true meaning of "mans best friend."
Learn about our other amazing animals