Freckles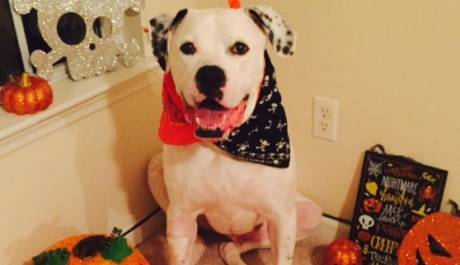 It's Official. Freckles is ADOPTED. I waited over a month before posting this wonderful news to make sure the Adoption was going to work out for Freckles and his new Family. We were very hopeful, but I still wanted to give everyone time to get into a good routine.
Freckles and his new Family bonded immediately. It was Love at first sight and has remained so. Our dear boy went through a year of pure Hell recovering from all of the Abuse he endured at the hands of a very deranged person. He was scared and fearful all the time. It has only been over the last year that he has been comfortable with certain individuals and even then he was highly unpredictable. The last six months we felt strongly that the worst was over for this amazing dog. He was sent to our wonderful Trainer in North Carolina to complete his final Training before he was placed in a home. It was during this time that we received an application that we thought would be perfect for this sweet boy. Lots of one on one time happened with the new Family, the Trainer, and Freckles.
Freckles finally has a Home he can call his own. We could not ask for more for this amazing dog. Unconditional love and support to get him through his rough times which seem to be far behind him. We will always be there for this wonderful dog if something should happen but I believe he is officially HOME.
Thanks for caring and playing a big part in Healing Freckles from all the abuse he endured and helping him find Love and Heal.
Learn about our other amazing animals