Freckles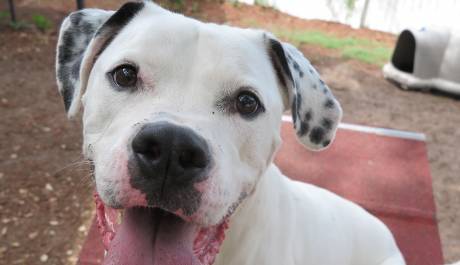 FRECKLES has gone to North Carolina for a Training Vacation! Our hopes are a change of scenery filled with new life experiences will only help our favorite spotted American Dane find his Forever Home.
Freckles has been working with a Trainer in NC for the past three weeks. He is exposing him to more social settings and pushing him through some of his anxieties with people. He is also working on his resource guarding and obedience skills.
Freckles is one incredible companion once he trusts you. He needs a strong handler who he trusts to love and protect him. He will need someone who can spend time with him in the presence of those he trusts before being introduced into a new home. This person should also be someone who can continue to build his confidence and work him through his obedience daily.

Freckles is a fun-loving dog who deserves nothing but unconditional love, safety and LOTS of play time. If you think your home and family would be right for Freckles, please, fill out our Adoption Application online to be considered.
Learn about our other amazing animals