Freckles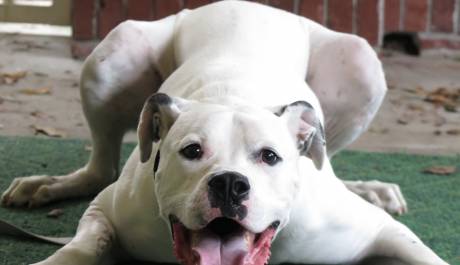 FRECKLES. You look at his face into his big brown eyes, and you see this most playful and silly boy. He's come so far, and he's making so such his progress in continuing to be socially accepting, of those human beings that hurt him so badly. He makes your day complete by seeing him so happy.
All he wants to do is walk in the sunshine, sniff the trees and play ball. JOLLY BALL to be exact! FRECKLES will always be a special needs pup. He has deformation in his paws from being dragged by a truck, he has some terrible scary too, but he's a survivor and once he has gained your trust, he is loyal and obedient.
It is going to take someone special for Freckles. He needs an owner who understands that Freckles has NO idea of how big he is. He thinks and acts like a gigantic puppy. His forever family will also have to understand that Freckles will never like your unexpected guests and certainly not the mailman or a random delivery guy. He won't be a dog who can play in dog parks or go for walks through socially active venues. But, he will be loving, playful, super silly and incredibly sweet once he bonds with you. He will be able to be a good protector but not for the wrong reasons. Most importantly, on your worst day he will look at you with those most amazing brown eyes and he will make all your woes go away. Then, he'll lick you until you smile from pure happiness.
Freckles will continue to work with our trainer daily. He loves all who he sees on a daily basis. He's a work in progress, but aren't we all? If you are interested in Freckles, you'll have to come spend time with him, understand his behaviors and have patience to bond with him......but, we can guarantee, he's worth it.
Learn about our other amazing animals