Freckles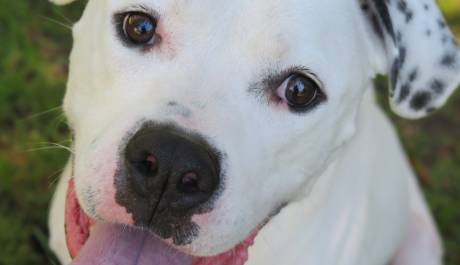 We wanted to add a little Sunshine to your Sunday! Our favorite silly boy, FRECKLES is making HUGE progress with meeting new people. He is looking for a home to call his own.
Freckles will need a STRONG, CONFIDENT handler. Someone who understands his temperaments. Although Freckles will never like random people just showing up at your home. I mean, it's always polite to call right? He is learning to trust and build his confidence with meeting new people.
Freckles is a BIG boy who loves nothing more than to play and run. Our hopes for him is someone who is interested in him, can come to the Lowcountry and build a relationship with him. It does take some time. However, he is learning and sometimes everything just takes time. Freckles is a silly boy. He has a sparkle in his eyes, a prance in his walk and a goofiness about him that will bring a smile to your face.
Freckles is an incredibly fun-loving soul who will make an incredible life companion. If you think your home and family would be right for this special boy, please, fill out our Adoption Application online to be considered.
Learn about our other amazing animals